Barcelona's Near North Coast. An Ideal Place to Buy Property.
La Maresme is the near north coast and runs from Barcelona to the city of Blanes, about one hour away. The train goes from Barcleona to several coastal towns and ends in Blanes. Pristine beaches, proximity to Barcelona, and homes with incredible views, make it a primary destination for international buyers.
The towns here are more numerous and closer together than in the South Coast. The towns on the beach are flat with mostly apartments and townhouses, while single-family homes can be found in the sparsely-populated residential areas up in the hills. The lots and houses increase in size, and privacy, as you climb up. You can live car-free in the beach towns but not up in the hills. Below is description of a few towns to give you an idea.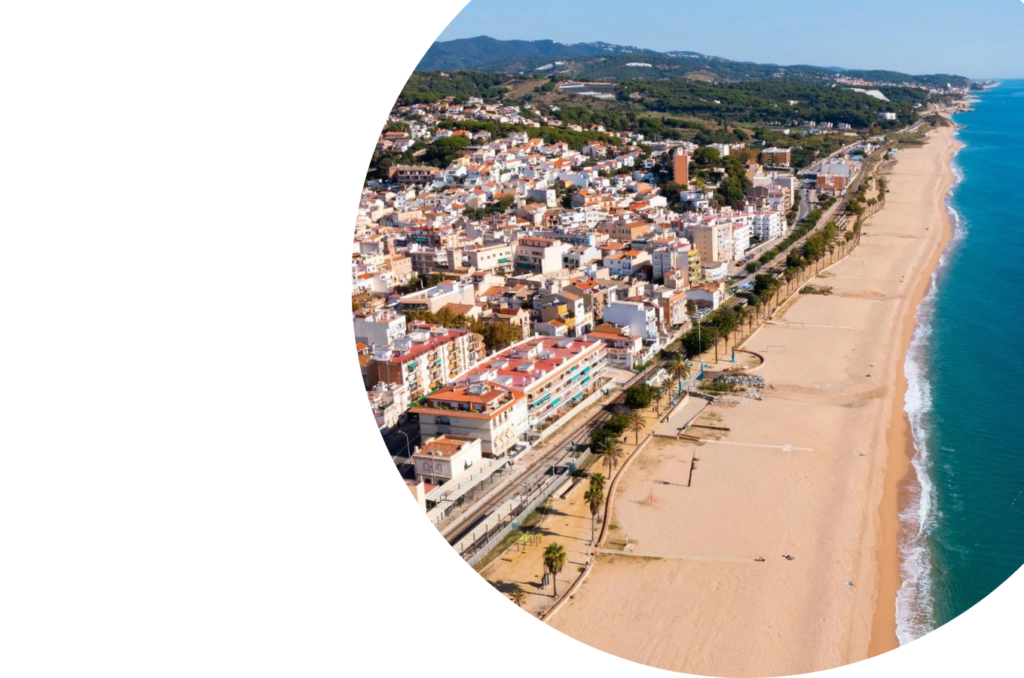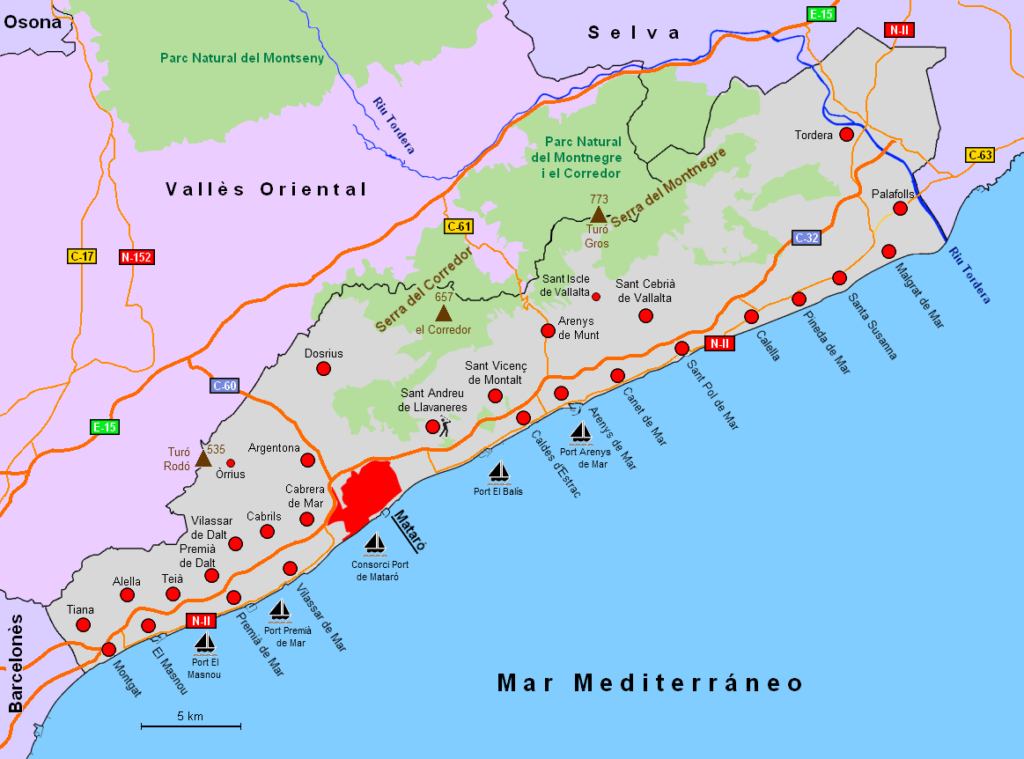 Montgat i Tiana
Montgat and Tiana. Mongat, is the town in the forefront with part of Tiana behind it. Note the basic lay of the land: a small flat coastal community with apartment blocks and some houses on small lots bordered by a hillside development with spacious houses on medium-sized to large lots.
Positive: Montgat has about 12,000 people and is 30 minutes in train from Barcelona. You can walk to stores, restaurants, train station and a beautiful beach. Tiana is a residential area a short drive up the hill where you'll find a variety of beautiful homes, most with garages and some with a pool. Most of the properties offer amazing views of the sea.
Negative: This area gets busy in the summer months with beachgoers. The roads coming down from the hills juncture in just a few spots creating congestion. Tiana, like all the upper towns, are heavily residential with no town center so you'll need a car.
Opinion. A good place to start your search. It's near Barcelona, has a very nice beach area and offer exclusive properties with beautiful views. It's similar to most of the towns on the coast so why not be close to Barcelona.
Vilassar de Mar i Vilassar de Dalt
Vilassar de Mar (by the Sea). An old fishing village that retains its authentic charm with large plazas, pedestrian streets and a boardwalk running along the beach filled with shops, bars and restaurants. It has 21,000 people and sits about 40 minutes in train or car from Barcelona. In 2018, a client paid 400,000€ for a top-floor flat in a 8-story building with a view to the sea. It's really nice.
Vilassar de Dalt (in the Hills). A 7-minute drive up the hill, it's 10,000 residents are spread over a wide residential area. It offers some very exclusive neighborhoods with a variety of secure, private, single-family homes. The lots vary in size, but most have a yard, pool and garage. In 2022, a client bought a mid-size house on a small lot with a garage, yard and pool in the foothills near the town center. He paid 650,000€.
Positive. The walkable Vilassar de Mar is a family-oriented community that offers everything you need. A client with two teenagers bought here in 2020 and wouldn't live anywhere else. Vilassar de Dalt offers some of the most-desired properties on the coast.
Negative: You have to drive to get to the more exclusive properties as they increase in size as you go up. Some of the roads are very narrow with sharp turns that are hard to navigate. And there's always some summer traffic and congestion.
We accept: